Lost Without You
"We're looking at the same sun but from the other side." -Michael Oakley, California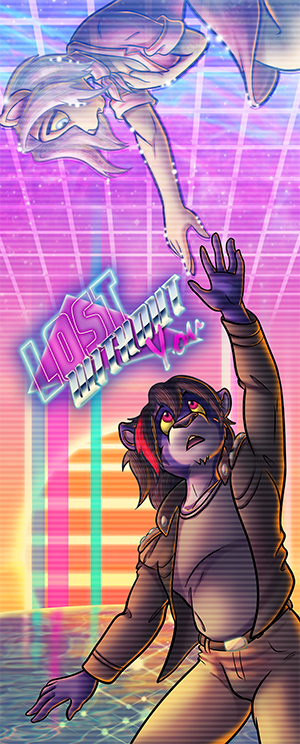 Neon galaxy, sector 1983; date unknown.
An alien wakes up in a corner of the universe with severe amnesia: he can't remember his origins, his purpose, nor destination. There's only one clue: a female apparition only he can see, begging to come find her.
With the self appointed name
Lost
, our protagonist soars the deep space hopping from planet to planet in search of her beautiful and mysterious
SilverMane
. He'll meet friends and foes, like the young troublemaker
Glimmer
and
Flatline
, a space-soldier with his own agenda; piece by piece Lost will discover more details of his past... some of which will be hard to accept.
Lost Without You
is a scifi retrowave comicbook saga by authors
M.Lock
(story, pencils, inks) and
Valyce Negative
(colours, after effects). It's a love letter to the 1980s we all remember with its movies, adventures, visuals and colours; filled with nostalgic influences, the pages of its volumes display a story in typical retrowave fashion, mixing balloons and VHS effects, a real saturday morning cartoon in paper form.
Dive into the adventures of Lost and friends in a journey that will take you... to the end of the universe!
Where To Buy
"Right in the middle of a nightmare, honey, I found you right next to me." -September 87, Bad Dream Baby
The saga of Lost Without You is divided in five Marvel-sized volumes of 52 pages each with glossy cover. Each issue is available both in italian and english languages and purchasable by directly contacting its authors. You can check our
shop section
for volume availability and prices and contact us via
instant messaging
or
email
to place your order! We ship worldwide.
Our comics are also available at conventions where the Valyce Negative/Lost Without You booth is hosted! Please check our
official page
or
news feed
for info and news on live events.
Volumes
"These tracks keep running full circle and there you are, each time. I look into your eyes..." -Timecop1983, Lost Without You
Issue 0: Lost Without You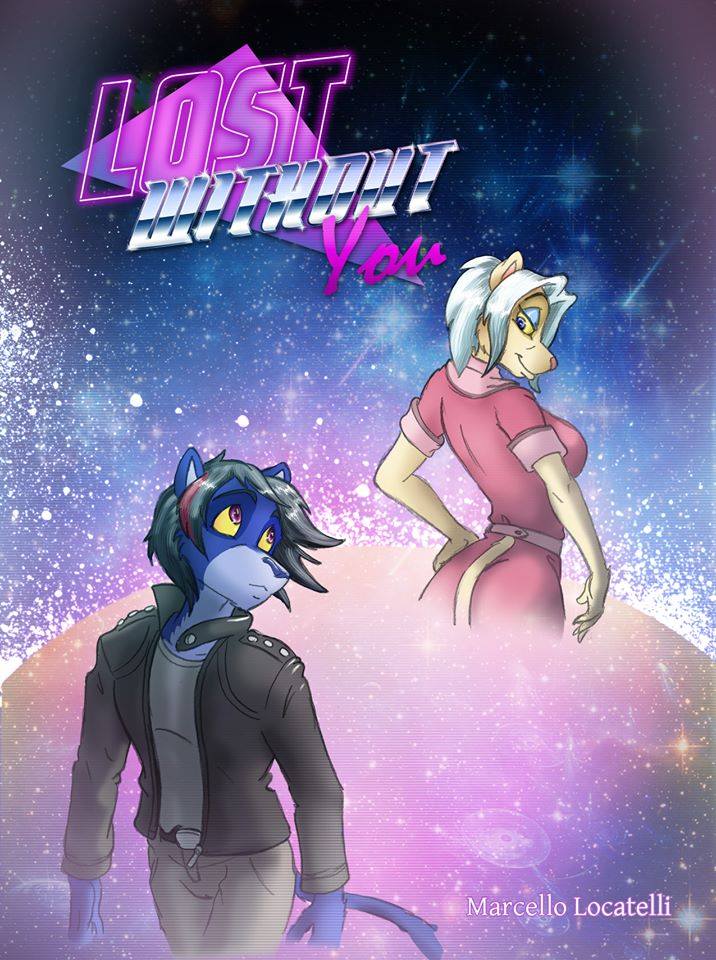 First edition published in December 2016.
Lost's debut is from a short experimental comic by M.Lock conceived as a "demo reel" for the soon-to-be-released project; it introduces the main characters of the story and gives a bit of extra prologue. Though not needed in order to enjoy the rest of the plot, it does give additional info on Lost's first steps into the world of graphic novels.
The volume is fully available online for free; a printed limited edition, now out of stock, has been distribuited at the italian comic convention
Cartoomics 2017
.
Read it here!
-
English version
-
Italian version
-
Issue 1: Endless Sunset
First edition published in October 2017.
A nameless alien wakes up in an unknown corner of the universe with severe amnesia: he can't remember his name, his origins, or why he's even there. Introducing himself as literally "Lost" to two eerie ethereal neon creatures, he decides to travel across galaxies in order to discover his real identity, aided by a snarky, self-conscious portable computer named Astron and Silvermane, a woman-like vision that apparently only Lost can see.
Readable preview (10 pages)
-
English version
-
Italian version
-
Issue 2: Rust
First edition published in February 2019.
While travelling through space, Lost gets misteriously attracted by a planet of ruins that seems to hide many secrets beneath its dusty, sandy exterior. Will the blue alien manage to escape his rusty prison and reunite with his friends?
Readable preview (10 pages)
-
English version
-
Italian version
-
Issue 3: Total Backup
First edition published in February 2020.
Finally free from his imprisonment on Diesel, Lost is once again on the road towards planet Vapor. Despite his friends' support, visions become darker everyday and the distinctive figure of a masked assassin become almost real in Lost's nightmares. Who's behind that symbol of death? Only an alien rodent turned into a living machine can tell.
Readable preview (10 pages)
-
English version
-
Italian version
-
Issue 4: Days Of Thunder
First edition published in January 2022.
With Lost's mnemonic shackles broken, Dr. Heller Raze has taken once again control of the blue alien's body, determined to bring his evil scheme to completion. It's Glimmer's turn to save the day, stop him and make Lost resurface from the dark abyss of his soul. In a climax of revelations and dangerous standoffs, everyone is asking the same question: where is Silvermane hiding?
Readable preview (9 pages)
-
English version
-
Italian version
-
Issue 5: You Can (Not) Go Back
The fifth and final issue of Lost Wihout You is currently being worked on! Stay tuned!
Links
"This life is an exploration and you gotta see what I see in you!" -Capital Cities, One Minute More
Wanna stay up to date with comic news, extras, previews and convention appeareances? Follow Lost Without You at these pages!
---